I am constantly asked where I find my recipes. When I don't create them myself, which is often, I definitely have my go-to spots for finding new ideas in the kitchen. And I would be happy to share my secrets with you in this Five on Friday post.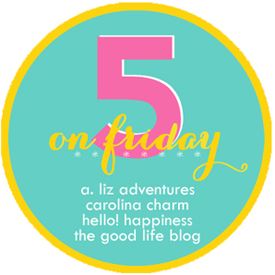 I used to subscribe to endless food and recipe magazines, only to end up with a fifty-pound paperweight — literally. And then to never again be able to find that one recipe I made for Christmas two years ago that everyone died over and is asking me to make again. Um, sure … it's in that special organizer for recipes that I tear out and put a smiley face next to. Or did I? Hmmm… It's got to be here somewhere.
Then I got smart – ding! – and downloaded an app from the App Store called Yummy Soup. This is great. I can add all of my favorite recipes to this app and it will catalog them for me so that I can find them instantly, anytime. And it will create a recipe card, complete with photo and shopping list, that I can print whenever I need it. Wait. I can even download recipes from the internet? Score! Until you have to spend countless hours inputting recipes from half-ripped and food-stained magazine pages, or correcting the downloaded version (since all recipes are posted with precise measurements and absolutely no shorthand on the internet, duh) — Hey look! There's that one recipe from Christmas…
Enter Pinterest. Now this is cool. I just have to pin a recipe that interests me to a board, and there it stays. I do use Pinterest to file recipes that I want to try, as well as tried & true family favorites. But I don't typically go there to find new recipes (personally not a fan of the search function and favored results on Pinterest). Here are my five favorite online resources to finding new clean-eating recipes and food ideas:
1. Foodgawker — If I were to pick ONE go-to site, this is it! Foodgawker is always my first stop. Think of it as a card catalog of recipes from food blogs all over the web. You can search for any ingredient or type of diet (ie. paleo) and see a preview of recipes that match your criteria, then you can "favorite" ones that you want to try. Or pin to Pinterest if you prefer. And – bonus! – you can submit YOUR own recipes to their database and increase traffic to your blog. There's even an iPhone app for it. I love Foodgawker!
2. Foodily — My newest addition, and I am loving it more & more. Very similar to Foodgawker, but includes recipes from your favorite magazines (minus the paperweight) and food celebrities. The recipe index is huge – over 2 million! You can also add your own recipes on Foodily. And there is an iPhone app as well. So why is Foodgawker still my #1? Two reasons, I actually think I get more interesting-to-me search results on Foodgawker (I don't always want to see recipes from famous chefs or sponsored sites) and finding a recipe I love from a passionate blogger makes me feel like I'm supporting a "small business". Don't get me wrong, popular recipes are great (that's why they are popular), but there's always a blogger out there with that one and only great recipe that ROCKS! Still a great site for finding that dish you saw in Bon Appetit or on Pioneer Woman's FoodTV show.
3. Thug Kitchen — You know that EXPLICIT label on album covers? Well, this site deserves one. Like it or not, you probably need to see it anyway.  My favorite food blog right now. An excellent resource for simple, clean recipes and jam-packed with nutritional information — with a side of reality check. And a good laugh.
4.The Gracious Pantry — Goodness Gracious! I just love Tiffany. No, not the iconic little blue box (not gonna lie, I do love that little blue box). Tiffany is the clean-eating guru behind The Gracious Panty. All clean, all day. Great recipes, meal plans, tips and articles on clean-eating and other nutritional content. Her site is like clean-eating for dummies … only smothered in delicious.
5. Skinnytaste — You know the saying, "Nothing tastes as good as skinny feels"? Well, skinny tastes pretty darn good! Especially when it's just a healthier version of recipes that you already love, without skimping on any of the great flavor. At Skinnytaste, Gina shares the same healthy recipes that she makes for her family and friends, along with tips to living a healthy lifestyle. Not all healthy recipes are clean, but you can always omit or substitute an ingredient to your taste. And really, it's all about moderation, right?
If I stumble upon a good looking recipe elsewhere, I won't hesitate to give it a try. But this is where I go looking for something new & delicious to add to my Monday meal plan or bring to a party (I love bringing healthy recipes to a gathering; it always makes for great conversation and I get to plant the clean-eating bug — win!). I hope there's something interesting to you in the bunch. Where do you shop for fresh flavors?